Russia Hacks Clinton Campaign Email A Day After Trump Asked Them To
This already exhausting election has just plunged from the bizarre into the realm of the unreal. Less than 48 hours after Republican nominee Donald Trump calls for the Russian Federation to hack into Democratic nominee Hillary Clinton's emails, the FBI announces that the Clinton campaign's electronic files are breached by what the New York Times believes to be Russian intelligence agents. The digital assailants also hit the servers of the Democratic Congressional Campaign Committee, the party's fundraising group.
"Russia, if you're listening, I hope you're able to find the 30,000 emails that are missing…I think you'll be rewarded mightily by our press!" said Trump on Thursday. It appears that Russian dictator Vladimir Putin was listening, as not a day later, US law enforcement reports intrusions into the Clinton Campaign's email files. Details are still sketchy at the moment, however, as it is an active investigation.
Previously, the Russians had infiltrated the files of the Democratic National Committee, releasing uncomfortable emails that showed that the DNC had favored the Clinton campaign and had unfairly stacked the deck against her rival, Senator Bernie Sanders (I-VT).
All signs point to the Russian Federation actively scheming to get Donald Trump elected as president. State-controlled television is robustly promoting Trump on the airwaves; Putinist youth organizer and Duma (Parliament) candidate Maria Katasonova recently tried to deliver a letter entitled "The Seven Sins Of Hillary Clinton" to the American Embassy in Moscow while wearing a Crooked Hillary t-shirt, Trump's preferred if primitive moniker for the Democratic nominee. Russian internet trolls have been caught flooding online forums and comment sections with pro-Trump messages.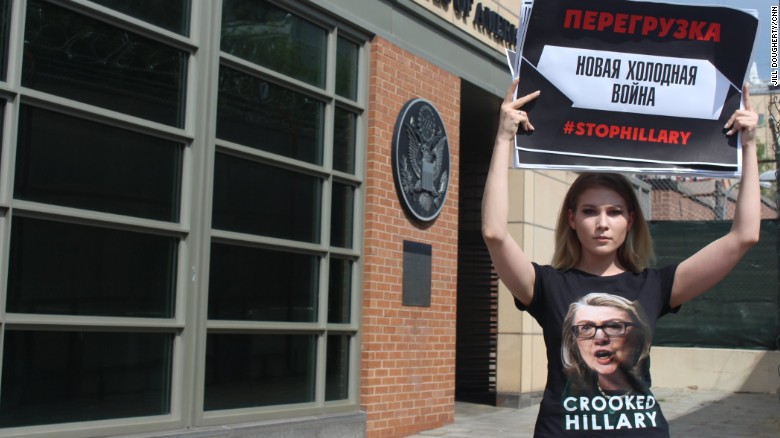 There are many reasons for Putin to feel it is in his interests to arrange a Trump presidency. Trump is a naive and narcissistic buffoon who is already surrounded by pro-Russian turncoats. Trump has already declared his intention to divest from our international commitments, including the North Atlantic Treaty Organization, which would upend the balance of global power and leave a vaccumn which Russia would happily fill. For the sake of global peace and the survival of our democracy, we must thwart Donald Trump's absurd aspirations for the presidency – and put a cork in whatever heinous plots the increasingly aggressive Russian dictator has in store for Eastern Europe and the Middle East.
Colin Taylor
Opinion columnist and former editor-in-chief of Occupy Democrats. He graduated from Bennington College with a Bachelor's degree in history and political science. He now focuses on advancing the cause of social justice and equality in America.