Trump just accused the media of fabricating polls to make him look vulnerable in 2020
The 2020 election is right around the corner and President Trump is sweating through his ill-fitting suits over it. Judging by the latest poll from ABC News, he has good reason to be worried. It reveals that 6 in 10 Americans believe a recession is likely to hit the country within the next year. They're also concerned that the president's trade war with China will continue to raise the price of consumer goods. More concerning for Trump, the poll shows his approval rating has dropped to 38%, a number which could spell doom for his reelection bid if not quickly rectified.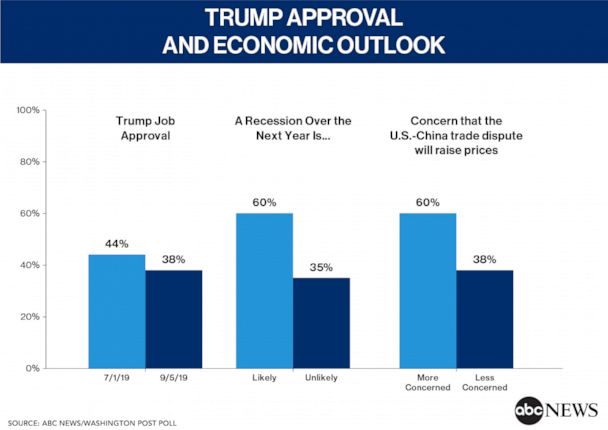 Never one to process bad news in a rational way, the president has already lashed out at the poll on Twitter. He started by attacking ABC and The Washington Post for incorrectly predicting he would lose in 2016, calling their previous poll the "worst and most inaccurate poll of any taken prior to the 2016 election."
Trump claimed that his lawyers complained about a poll showing him down by 12 points back then and insisted that this "Fake Poll" was subsequently taken down. He slammed ABC and The Post as "very bad and dangerous media outlets," which is exactly the kind of irresponsible anti-free press rhetoric we've come to expect from him.
ABC/Washington Post Poll was the worst and most inaccurate poll of any taken prior to the 2016 Election. When my lawyers protested, they took a 12 point down and brought it to almost even by Election Day. It was a Fake Poll by two very bad and dangerous media outlets. Sad!

— Donald J. Trump (@realDonaldTrump) September 10, 2019
Unfortunately for the president, CNN's Daniel Dale immediately swooped in to fact-check the tweet, pointing out all of the numerous bits of misinformation embedded in it. Dale reported that ABC had nothing to do with the poll from The Washington Post showing Trump down 12 points. ABC also told Dale that they don't believe there was a complaint from Trump's lawyers. There's also zero proof that any outlets corrected their polls because of the president's alleged complaints.
In short, Trump was caught blatantly lying once again.
This is not what happened.
– WaPo and ABC told me in June they do not recall a legal complaint (?) over their polls
– WaPo wasn't involved in the ABC tracking poll that had him down 12
– Obviously no basis for the claim they fixed subsequent poll results because he complained pic.twitter.com/ziit3uKxei

— Daniel Dale (@ddale8) September 10, 2019
The first tweet apparently wasn't enough for Trump to get his frustrations out though, so the president sent out an even more unhinged message claiming that "phony Polling Information" is one of the "greatest and most powerful weapons" used by the "Fake and Corrupt News Media." Trump claimed without a shred of evidence that many polls are "fixed" or "worked in such a way that a certain candidate will look good or bad." One would have to be an utter fool to believe anything that comes out of this man's mouth (or Twitter fingers) at this point. This is conspiracy theory peddling of the lowest sort, provided without any proof and overtly self-serving.
The president's claim that his internal polling "looks great, the best ever!" is also an extremely dubious claim, given that his internal numbers showed serious trouble for him as recently as March. His reelection chances are slipping by the day, which means we can almost certainly expect more shameless lying as he tries to spin his plummeting popularity to look like a win.
One of the greatest and most powerful weapons used by the Fake and Corrupt News Media is the phony Polling Information they put out. Many of these polls are fixed, or worked in such a way that a certain candidate will look good or bad. Internal polling looks great, the best ever!

— Donald J. Trump (@realDonaldTrump) September 10, 2019