Newly released impeachment texts directly shows Don Jr.'s involvement in Ukraine scandal
https://www.documentcloud.org/documents/6657197-Parnas-Documents-Part-2.html#pages
The House Intelligence Committee just released the second installment of impeachment evidence from the explosive Parnas documents while Speaker Pelosi was busy signing the articles of impeachment and sending them to the Senate for trial.
New text message evidence shows that President Donald J. Trump's namesake eldest son is directly involved in the plot that led to his impeachment by the newly released 390-page document. (embedded below)
Donald Trump Jr. is a private businessman who is nominally busy with running the Trump Organization while his father is busy mismanaging the Oval Office.
Add your name to tell McConnell to allow impeachment witnesses. We demand Trump get a fair trial!
Despite Donald Trump's false promise that none of his children would have a White House role soon after his election, these new messages show Don Jr.'s vital role as a political messenger for the President. The first visible record in the new document dump is a message from an official at the Trump-aligned America First Action PAC asking Lev Parnas what he should send to the first son.
Story continues below:
Sure enough, just a few days later, Donald Trump Jr.'s tweet arrived.
It was a cornerstone communication in the cabal's public relations campaign against former Ukraine Ambassador Marie Yovanovitch, which later spread to Fox News on Sean Hannity's program, leading to her premature recall from office.
Story continues below: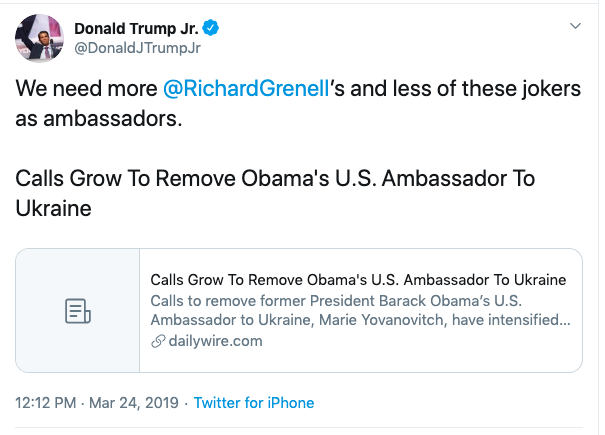 Inside the massive document dump, there is a series of Russian and Ukrainian-language messages between Parnas and high-ranking Ukrainian officials.
One that stands out is from Andriy Yermak, a top advisor to Ukrainian President Volodymyr Zelensky, who was plunged into Trump's scheme to extract a baseless investigation announcement to hurt Joe Biden by an array of the President's men, including Rudy Giuliani and EU Ambassador Gordon Sondland.
Yermak sent Parnas a very stern message, asking Giuliani to delete one of his tweets exposing his personal information to the entire world and admonishing him for sharing confidential communications between them.
Twitter took the rare step of temporarily suspending Rudy Giuliani's account over that message, which he posted on October 3rd, 2019 less than two weeks after Speaker of the House Nancy Pelosi (D-CA) announced the start of the impeachment inquiry.
Lastly, the messages from Lev Parnas also contain the complete interview request and advanced question list from John Solomon, a former opinion journalist and Executive Vice President of digital television for The Hill. 
While it's not considered the best professional practice for journalists to send all of their questions to a government official in advance, the content of Solomon's questions is both scandalous and wildly ironic.
Days earlier, Ukraine's former prosecutor-general Yuri Lutsenko complained to Parnas that Ambassador Yovanovitch had to be removed, offering information on Joe Biden in return for her ouster.
The former Fox contributor's questions arrived to Lutsenko soon thereafter, with the subsequent interview becoming a cornerstone of the misinformation campaign used to justify her removal.
But Solomon's multi-part 4th question to Lutsenko references a letter from former Texas House Republican Pete Sessions asking for the Ambassador's removal after Lev Parnas gave him a substantial political donation.
"Specifically have any US officials suggested to Ukrainian officials that they can ignore President Trump because he might be impeached," wrote Solomon to Parnas for delivery to Lutsenko, "and what was the Ukrainian reaction?"
Story continues below:
Paradoxically, Solomon's efforts to determine if Ukrainian officials thought they could ignore Trump since he might be impeached last spring ultimately contributed significantly to his later impeachment tonight, the very night these messages have been revealed.
A well-placed anonymous source on Capitol Hill accurately told Occupy Democrats last week that there significant new nonpublic information in the hands of House Democrats is what led Speaker Pelosi to stop delaying the impeachment trial this week.
Yet, while last night and tonight's Parnas documents are a substantial new body of evidence, they do not constitute the totality of what that source said is the new, nonpublic information available to the House for Trump's impeachment trial.
Last night's document dump does expose Don Jr.'s role as a fact witness in his father's impeachable offenses, reveals the deep dissatisfaction amongst Ukrainian officials with Trump's lawyers and cement Lev Parnas' central role as a middle-man in the President's plot to harm Joe Biden with false information from a foreign government.
Here is the complete set of the second tranche of Parnas Documents:
Grant Stern
is the Executive Editor of Occupy Democrats and published author. His new Meet the Candidates 2020 book series is distributed by Simon and Schuster. He's also mortgage broker, community activist and radio personality in Miami, Florida., as well as the producer of the Dworkin Report podcast. Grant is also an occasional contributor to Raw Story, Alternet, and the DC Report, and an unpaid senior advisor to the Democratic Coalition and a Director of Sunshine Agenda Inc. a government transparency nonprofit organization.