Social media hilariously unloads on Trump after he mistakes where Kansas City is
Yesterday, the Kansas City Chiefs defeated the San Francisco 49ers in Super Bowl LIV. As is always the case after the annual championship game, congratulations immediately began to pour in and President Trump himself even decided to take part. He tweeted out his praise to the Chiefs, but true to form for a man whose profound ignorance extends even to the geography of the country he leads, he congratulated the "Great State of Kansas." The Kansas City Chiefs are from Kansas City, Missouri. While Kansas City is divided in two by the state borders, Kansas City, Kansas has nothing to do with the Chiefs or their big win.
"Congratulations to the Kansas City Chiefs on a great game, and a fantastic comeback, under immense pressure. You represented the Great State of Kansas and, in fact, the entire USA, so very well. Our Country is PROUD OF YOU!" Trump said in the since-deleted tweet. He ended up redoing and sending out the message, this time with congratulations to the proper state.
Add your name to tell the Senate: CONVICT DONALD TRUMP!
While in the scheme of things it's a minor mistake, it's not the kind that the President of the United States should be making. The very least we should expect from the man we entrust with our nuclear codes is that he knows the layout of our country.
Time and again this man has demonstrated how little he knows about just about everything. He is a bottomless pit of ignorance and cruelty and as such these kinds of errors are totally fair game for ridicule. This man humiliates the United States on a daily basis, the least we can do is return the favor.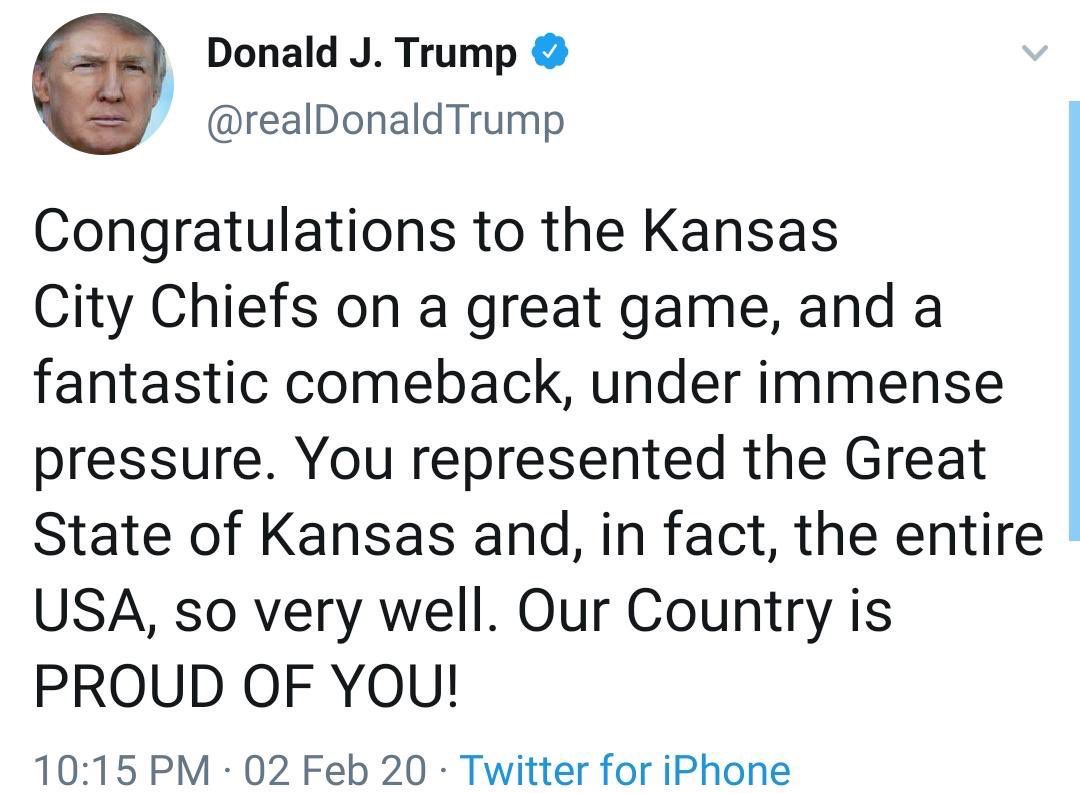 Congratulations to the Kansas City Chiefs on a great game and a fantastic comeback under immense pressure. We are proud of you and the Great State of Missouri. You are true Champions!

— Donald J. Trump (@realDonaldTrump) February 3, 2020
Of course, Trump's efforts to cover up his embarrassing mistake were largely in vain as screenshots of the original error-stricken tweet quickly went viral. Twitter users pounced on the president, burying him under a mountain of the kind of mockery that his thin-skinned ego is singularly incapable of weathering. Check out some of the best zingers below.
Oh man. The Kansas tweet was real?

That's incredible. While we're talking about whether or not a national security reporter can find Ukraine on a map, Trump can't find Missouri.

— Angry Staffer (@AngrierWHStaff) February 3, 2020
This tweet comes amid an ongoing news cycle where Trump's Secretary of State — who is very prominently from Kansas — claimed a reporter couldn't find something on a map pic.twitter.com/0ipt6MCaWi

— Allan Smith (@akarl_smith) February 3, 2020
— Adam Steinbaugh (@adamsteinbaugh) February 3, 2020
Trump cares so much about Kansas and Missouri that he can't bother to figure out where Kansas City is.

— Neera Tanden (@neeratanden) February 3, 2020
This was deleted quickly (no doubt after someone pointed out that Kansas City is in Missouri) but really is such a perfect illustration of Trump's utter and shameful ignorance. A total fucking moron. pic.twitter.com/9GCPEq7Pym

— Gary Whitta (@garywhitta) February 3, 2020
I'm not a football guy, but it sounds to me like what happened is Trump blew $10 million on Superbowl ads only to immediately wipe out any media news cycle buzz over them by mistaking Missouri for Kansas.

— Charles #GetCovered-ba (@charles_gaba) February 3, 2020
Some pundit is going to say I can't call Trump dumb for thinking Kansas City is in Kansas. They will say "that's how Trump won."

But i just refuse to believe my fellow Americans are that dumb.

— Bakari Sellers (@Bakari_Sellers) February 3, 2020
People, whatever you do, please do NOT see and share this ad made by the Republican Party featuring me & @TheRickWilson lightheartedly mocking Trump's ignorance and his cult's celebration of it. Also, congrats to the Kansas City Chiefs who are from Missouri and not Kansas. https://t.co/B4Tm3p9HLw

— Wajahat "Shaped by the American Coastland" Ali (@WajahatAli) February 3, 2020
this tweet is shocking. I can't believe Trump knew Kansas was located in the USA pic.twitter.com/WHc4pct73E

— Matt Oswalt (@MattOswaltVA) February 3, 2020
Can't believe the Deep State put Kansas City in MISSOURI just to embarrass Trump.

— Judd Legum (@JuddLegum) February 3, 2020
https://twitter.com/TravisAllen02/status/1224178647734652928?s=20
Trump congratulates The state of Kansas on their super bowl win.
No shit.
Probably from the White House in Washington.
Near Seattle.

— Ryan Stiles (@WhoseRyanStiles) February 3, 2020
People are making fun of Trump for thinking that Kansas City is in Kansas. But give him a break; this is all he knows about America pic.twitter.com/0pqHafJjpm

— Paul Krugman (@paulkrugman) February 3, 2020