Republican state rep shares list of "virus tips" that reminds you "government is not your daddy"
https://twitter.com/SkylarJordan/status/1238165896985751555?s=20
As a panicking nation struggles to come to grips with the disruption caused by the coronavirus, the Republican Party can't resist using the opportunity to remind us all how little they think of us and our well-being.
State House Rep. Jeremy Faison (R-TN) took to Twitter to share this cutesy list of "tips" for staying healthy in the midst of a pandemic. But hidden among the common sense advice like "wash your hands" and the contradictory message to both stay away from candy and also have it close by is a little reminder that he and his colleagues have no intention of doing anything to help ordinary Americans get through this crisis.
"Remember that the government is not your daddy or your mamma" and "you are responsible for yourself and your family, take ownership" advises Jeremy, who will have all of his healthcare needs paid for by the taxpayers and works roughly two days a week for nearly $200,000 a year.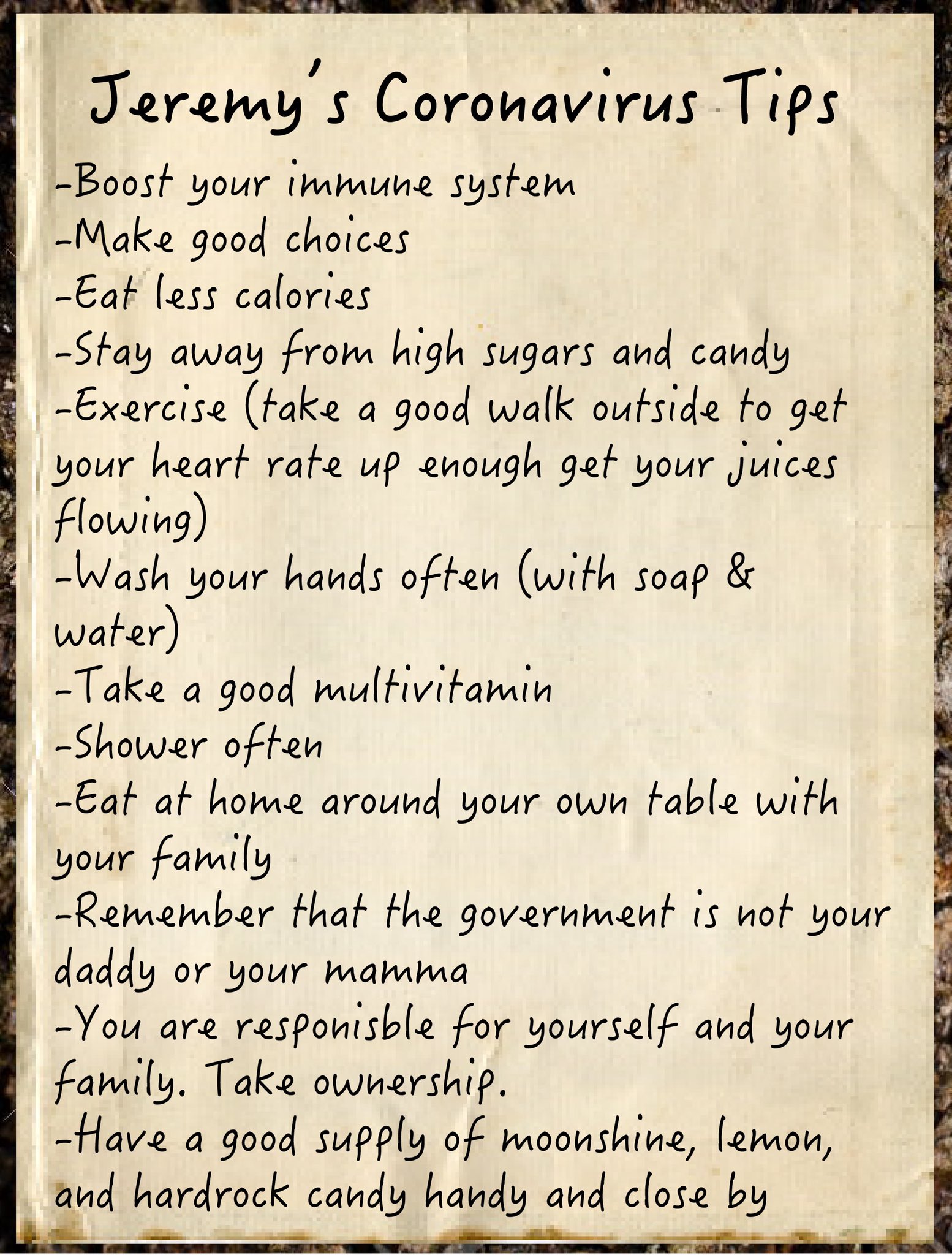 That's right folks! Test yourself for the virus! If you're positive, go to the hospital and hope your bloodsucking health insurance plan will cover it! If you get laid off or told not to come into work, you'd better hope you're not one of the 40% of Americans who couldn't come up with 400 for an emergency, because you're out of luck! If you rely on food stamps to feed your kids, better boil up some bootstraps because new rules set to go into effect next month will kick 700,000 off SNAP benefits!
Trump fired America's pandemic response team. Demand he reassemble it to confront the coronavirus pandemic immediately!
As the government rushes to flood the short-term lending market with a staggering $1.5 trillion and the president floats a $840 trillion payroll tax cut for American corporations, Republicans in Congress blocked emergency paid sick leave for the nation on Wednesday night. It's clear that according to Republicans, the government is there to be the daddy and mamma for big business, but ordinary Americans are on their own.
In a normal country, the GOP would never win an election ever again.
Social media did not respond well to Rep. Faison's helpful "tips:"
Reprunsentatuive Jeremy I'm mighty disappointed in this you didn't say nothin bout no bible.

Gless your heart.

— Martin Cizmar (@martincizmar) March 12, 2020
-You should never, ever tweet anything about juices flowing, ever.
-This reads like a Cracker Barrel waitress recovering from a 3 day bender wrote it on the back of a menu.

— Michael Blake Beason (@BeasonMichael) March 12, 2020
You haven't read one thing about COVID-19 have you?

— Matt Anderson (@mandersonville) March 12, 2020
https://twitter.com/SuesanwithanE/status/1238172541602185218?s=20
This article has been updated to clarify that Rep. Jeremy Faison is a state house rep, not a member of the U.S. Congress
Colin Taylor
Opinion columnist and former editor-in-chief of Occupy Democrats. He graduated from Bennington College with a Bachelor's degree in history and political science. He now focuses on advancing the cause of social justice and equality in America.