Trump misidentifies statue in his own office after arguing statues are important for teaching history
President Trump has seized on the recent outbreak of iconoclastic fervor among the protesters who are still in the streets every night as a way to try and jolt his languishing and aimless campaign back to life. Overnight, the President has become an outspoken defender of statues and has expended a great deal of energy mourning the toppling of statues featuring Confederate racists and bemoaning the vandalism of some representations of more questionably problematic figures, like that of Founding Father and slave-owning rapist Thomas Jefferson.
This morning, the President brought down what he clearly feels is an iron fist by threatening to imprison "anarchists" for ten years over some paint on a statue.
We are tracking down the two Anarchists who threw paint on the magnificent George Washington Statue in Manhattan. We have them on tape. They will be prosecuted and face 10 years in Prison based on the Monuments and Statues Act. Turn yourselves in now!

— Donald J. Trump (@realDonaldTrump) June 30, 2020
But it's all just a dog-whistle for his base to get riled up over; Trump doesn't even know anything about the statues that are literally in his office, as he made hilariously clear on Sunday night.
"Every president chooses what to put around them…You chose Lincoln as a bust and Lincoln as a picture. You chose Andrew Jackson, and is that Teddy Roosevelt?" asked Kilmeade, pointing to a statue.
"Yes…And by the way, they're taking down the statue of…" replies Trump, trailing off. Kilmeade saves him and interjects "Teddy Roosevelt."
Of course, Trump did not choose to put that statue in the Oval Office and the statue is not Teddy Roosevelt. It is the "Bronco Buster," showing an unnamed cowboy breaking a wild horse and remains in the Oval Office from the presidency to presidency. It symbolizes the brutal genocide which America waged in order to "tame" the "Wild West" and subjugate its indigenous inhabitants, and as long as we're knocking down statues we should probably remove that one as well.
Add your name to tell states and police to reject Trump's calls to use violence against peaceful protestors!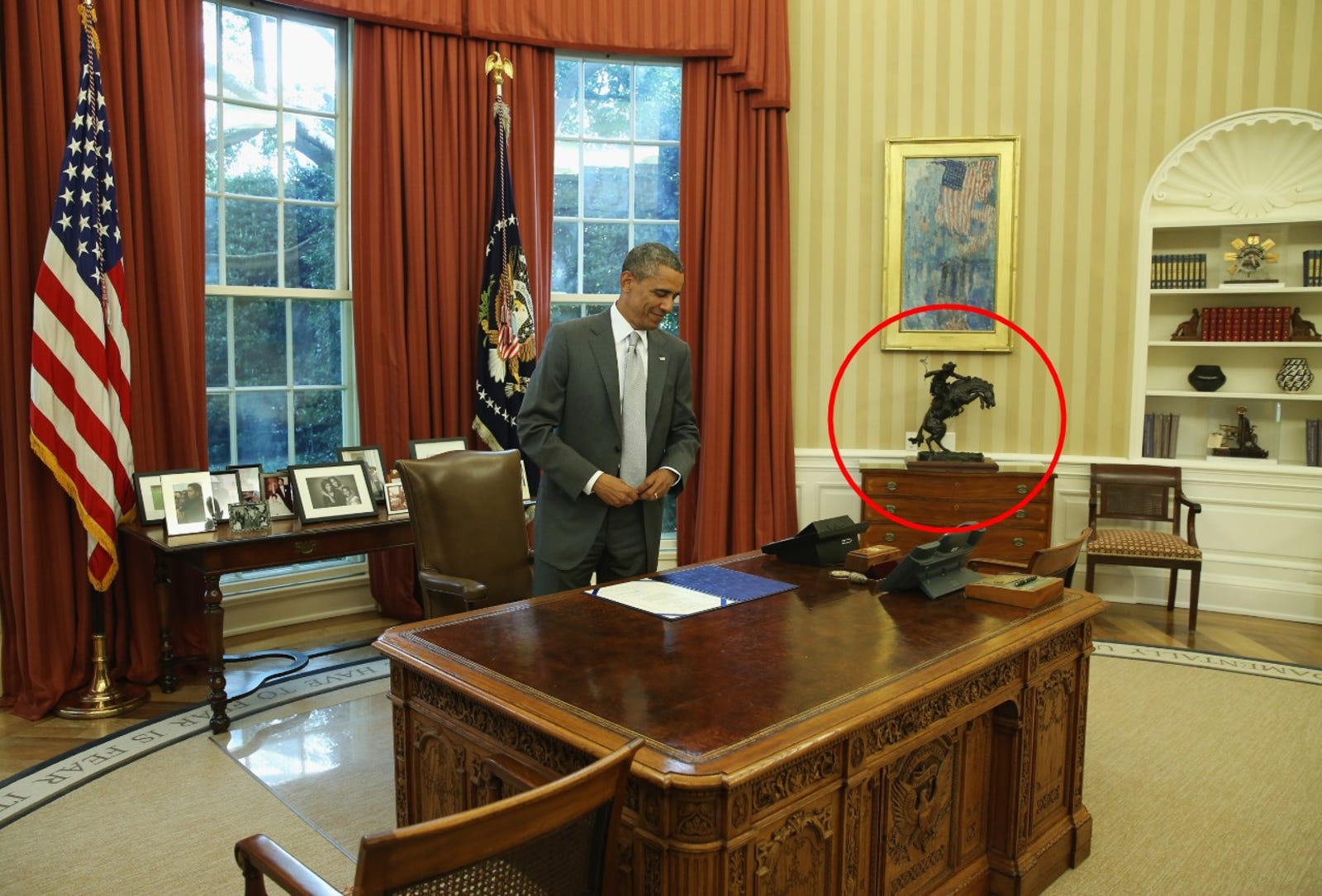 But Trump went on to explain that statues were important and needed to be defended because they were important for teaching people history.
"A lot of these people that want it down, don't even know what they're taking down. I watch them on television, and I see what's happening. And they're ripping down things, they have no idea what they're ripping down," claimed Trump., who also does not have any idea what they were ripping down.
Later on in the interview, he argued that "My message is that we have a great country. We have the greatest country on Earth. We have a heritage, we have a history. We should learn from the history. And if you don't understand your history, you'll go back to it again. You will go right back to it. You have to learn. Think of it—take away that whole era, and you'll go back to it sometime—people won't know about it."
The use of "heritage" is an obvious nudge-and-wink to his white supremacist fans, who would like America's heritage of open white supremacy to be more of a reality than it already is today. As the President's poll numbers slide deeper and deeper into the abyss, Trump is just going to double down on the one thing he has left, which is doubling and tripling down on the culture war nonsense that gets his hooting and baying fans all riled up. We have to remember that it's all a desperate act and that the President doesn't even know what the things in his own office are.
Original reporting by Matt Novak at Gizmodo.