QAnon shaman's lawyer claims his client is "f*cking r*tarded" and the judge should go soft on him
Perhaps the most infamous photo from the January 6th insurrection incited by then-President Trump is that of the so-called QAnon shaman, an absurd-looking MAGA supporter in facepaint, a fur horned hat, wielding an American flag.
Like many who took part in the illegal siege, the shaman (real name Jacob Chansley) appeared totally confident on camera, secure in the mistaken assumption that he would be immune to criminal ramifications because his president would protect him. Eventually, he was arrested and has been charged with "knowingly entering or remaining in any restricted building or grounds without lawful authority, and with violent entry and disorderly conduct on Capitol grounds."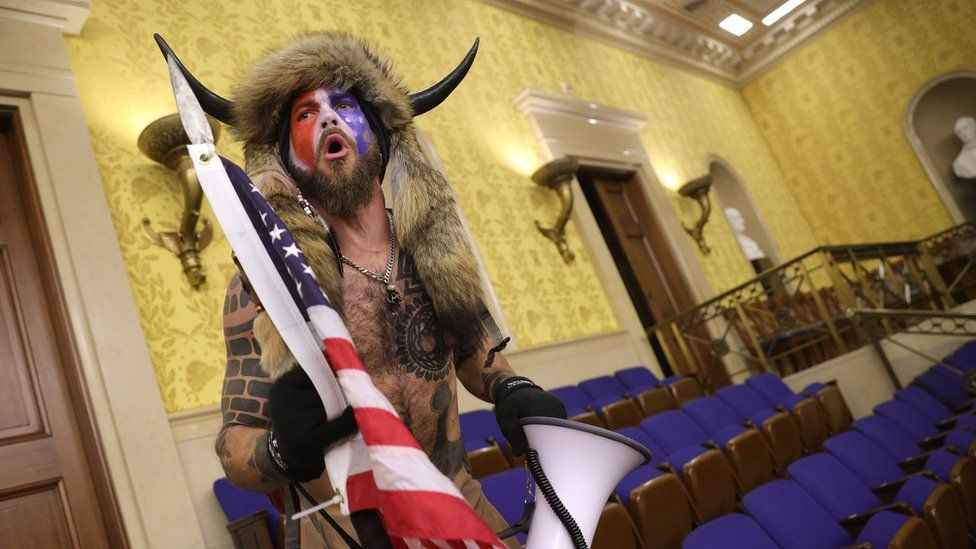 In a new interview with Chansley's attorney Albert Watkins, Matt Shuham of Talking Points Memo uncovered the truly jaw-dropping defense being mounted on behalf of the shaman.
Watkins claims that Chansley has Asperger's Syndrome and that Trump's "propaganda" played a large part in his decision to storm the Capitol.
"A lot of these defendants — and I'm going to use this colloquial term, perhaps disrespectfully — but they're all f*cking short bus people," said Watkins, using the highly offensive term for special needs students. "These are people with brain damage, they're f*cking retarded, they're on the g*ddamn spectrum," he added.
Add your name to demand Congress raise the minimum wage to $15 per hour!
"But they're our brothers, our sisters, our neighbors, our coworkers — they're part of our country," Watkins went on. "These aren't bad people, they don't have prior criminal history. F*ck, they were subjected to four-plus years of goddamn propaganda the likes of which the world has not seen since f*cking Hitler."
He stated that these defenses don't "excuse" what his client did, but that he hopes they might mitigate the severity of the crime somewhat when it comes time for a judge to pass his sentencing.
While Trump certainly deserves much of the blame for January 6th, his guilt in no way lessens the guilt of those who took part in the insurrection. Giving into mob mentality to break the law doesn't become somehow more acceptable just because a politician you like convinced you to do it. Chansley, like everyone else who stormed the seat of our Republic, belongs in prison. Anything less is just asking for a worse, more violent repeat in the future.
I spoke to the "QAnon Shaman" Jacob Chansley's attorney, Albert Watkins, for this story. Here's what he had to say… https://t.co/6gZ2jzPvSh pic.twitter.com/b4w62dYvLN

— Matt Shuham (@mattshuham) May 18, 2021
We want to hear what YOU have to say. Scroll down and let us know in our NEW comment section!
Staff Report
This is a staff report from former Occupy Democrats Editor in Chief Colin Taylor or contributor Rob Haffney.