RADICALIZED RILEY: Jan 6th rioter who stole Pelosi's laptop is found guilty
Nine months after the US Capitol riot, Riley Williams was formally charged with stealing — and then selling or disposing of — a laptop from House Speaker Nancy Pelosi's office.
After three days of deliberation, jurors convicted Williams, 22, of six charges on Monday, including participating in a civil disorder, impeding officers who tried to clear the Capitol Rotunda, and disorderly conduct on Capitol grounds.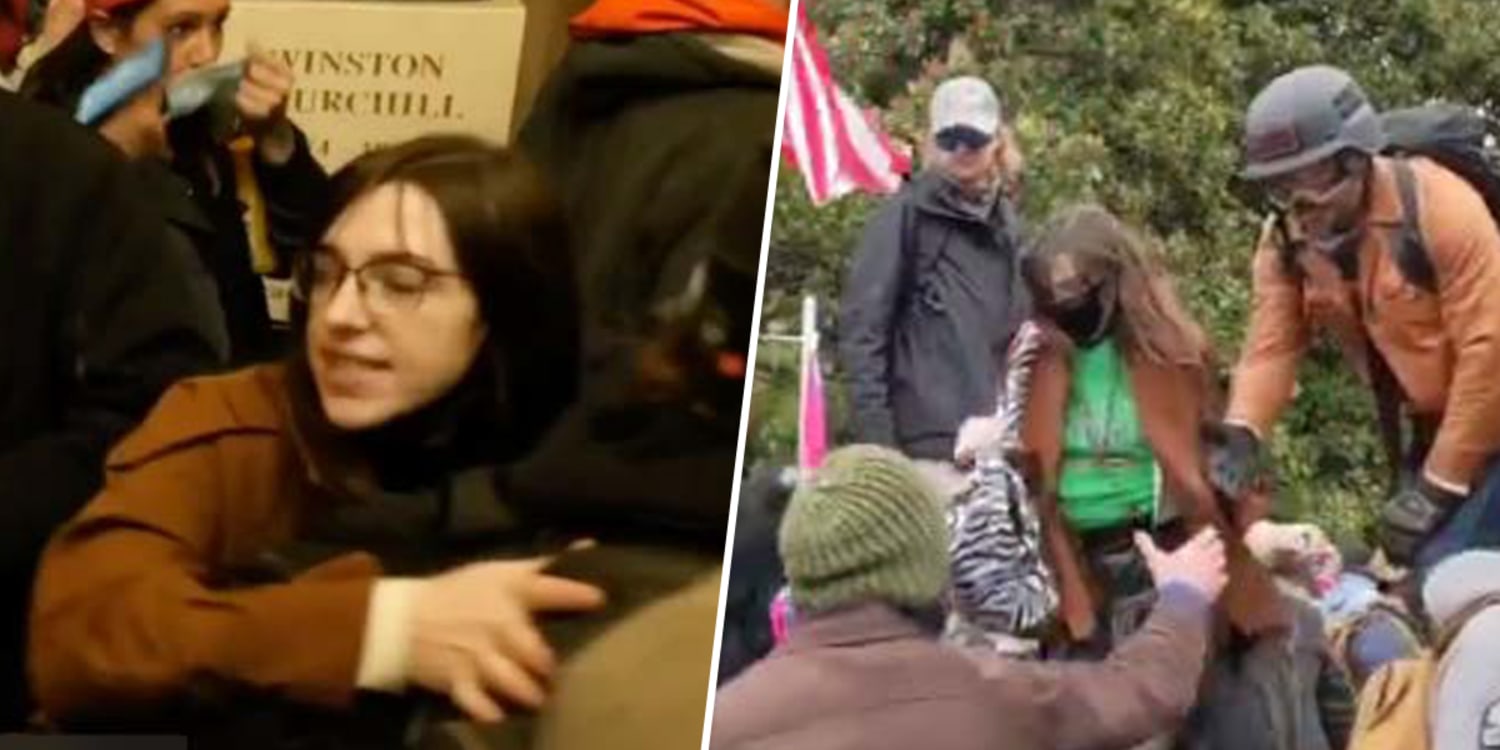 Prosecutors described Williams as a "Groyper," which is the stupidest word ever, a made-up term for followers of white nationalist Nick Fuentes, a disgusting waste of DNA who spent weeks prodding listeners to his podcast to oppose the transfer of power to Joe Biden.
You may have seen tweets with that stupid green "Pepe" frog? The absolute bottom of the bottom.
Williams wore an "I'm With Groyper" shirt during the Capitol riot and sent Groyper-associated memes to her friends mocking Democrats for cowering amid the violence at the Capitol. One of Williams' ex-boyfriends testified during the trial that she had become obsessed with Fuentes' podcast in the weeks leading up to January 6th.
But the jury failed to reach a unanimous verdict on two of the central counts in the case: whether Williams "aided and abetted" in the theft of a laptop from Speaker Pelosi's office that had been used to make Zoom calls amid the Covid pandemic; and obstruction of Congress' January 6th proceedings, a felony that carries a 20-year maximum penalty.
According to the FBI, Riley Williams took a video during the riot of an HP laptop on a desk in Speaker Pelosi's office. A woman, whom prosecutors identified as Williams, says, "Dude, put on gloves," and a gloved hand grabs the laptop off the desk.
The FBI alleged that a social media account with the user name "Riley" posted about having stolen from Speaker Pelosi and having taken her "hard drives."
In court documents, prosecutors noted claims by a tipster that Williams intended to send the laptop to Russia, and said those claims were still under investigation.
Williams has denied the accusations against her. In January 2021, Williams' lawyer told the court that the allegations "came in part from a former abusive boyfriend" who has "threatened" her.
That same month, the FBI announced it opened an investigation into the theft of Speaker Pelosi's laptop after a tipster identified Williams in a video from the Capitol and said she intended to send the computer device to a friend in Russia, who then planned to sell the device to that country's foreign intelligence service.
A laptop from a conference room was stolen. It was a laptop that was only used for presentations. https://t.co/S7YGPnLaWy

— Drew Hammill (@Drew_Hammill) January 8, 2021
Update on a Jan. 6 case that got attention early on: Riley Williams was indicted yesterday, and it incl. a count that she originally faced for aiding/abetting the theft of a laptop from Pelosi's office — indictment doesn't have any more details https://t.co/U7poUvtFXe pic.twitter.com/PagQkiGEJD

— Zoe Tillman (@ZoeTillman) October 7, 2021
Judge Amy Berman Jackson has ordered Williams jailed immediately, saying she has no confidence Williams will comply with release conditions.
Tara Dublin is a woefully underappreciated and unrepresented writer currently shopping a super cool novel that has nothing to do with politics while also fighting fascism on the daily.
Follow her on Twitter @taradublinrocks.
Editor's note: This is an opinion column that solely reflects the opinions of the author.
Tara Dublin
Tara is a reported opinion columnist at Occupy Democrats. She's a woefully underappreciated and unrepresented writer currently shopping for a super cool novel that has nothing to do with politics while also fighting fascism on a daily. Follow her on Twitter @taradublinrocks
Tara Dublin
Tara is a reported opinion columnist at Occupy Democrats. She's a woefully underappreciated and unrepresented writer currently shopping for a super cool novel that has nothing to do with politics while also fighting fascism on a daily. Follow her on Twitter @taradublinrocks