UNHAPPY MEAL: Trump BURNS Kanye after Mar-a-Lago dinner date with a White nationalist
In the worst possible reboot of "Guess Who's Coming to Dinner?" ever, Donald Trump hosted openly anti-Semitic rapper Kanye West and his fellow Holocaust-denying pal, Nick Fuentes, for some burnt steak at MAGA-Lago.
And while the Republican Party has mostly been silent about Nazis having a casual repast at Trump's Florida sand trap/future burial site, there's been plenty of outrage from normal people who recognize that dining with white supremacists is a terrible look on top of all of the other regular awful things we've come to expect from the Orange McMenace.
Donald Trump isn't ever going to apologize or accept responsibility for anything he does, which is why he's constantly shifting the blame around like a subhuman shuffling game of Three Card Monte in a cheap shiny Brioni suit.
Before the blowback hit his "hair," Trump boasted about their dinner conversation and how Kanye "expressed no anti-semitism," which means they all sat around talking shit about Jewish people.
"I didn't know Nick Fuentes" = "Marjorie Taylor Greene hung out with him over the summer" along with Milo Yannotrumpopoulous or whatever his name is.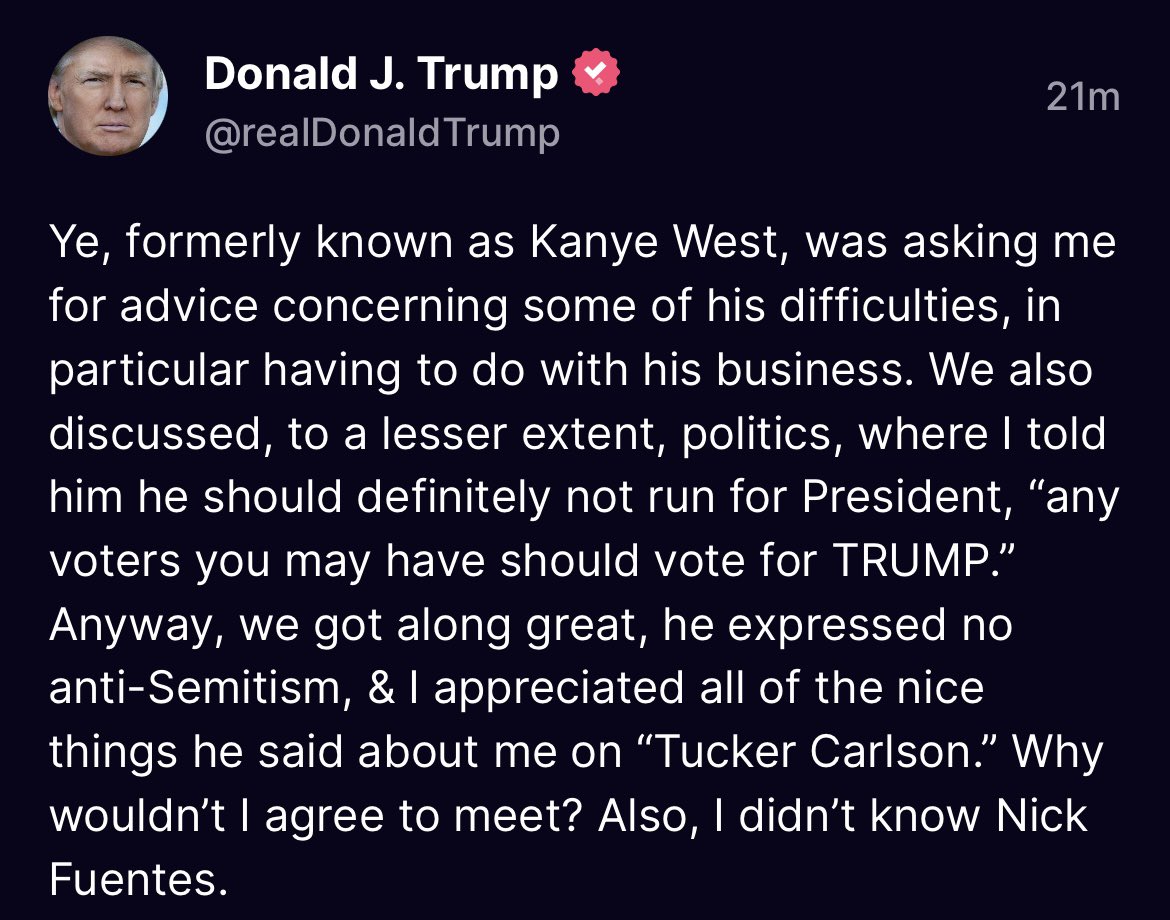 Now that he's heard that many people are saying it was a bad idea for him to allow (extra) Nazis into his home/storage unit for secure documents where just anyone can walk onto the grounds, King Baby took to his TruthSocial and imparted his particular brand of racism to put the nail in the coffin of his friendship with Ye:
"So I help a seriously troubled man, who just happens to be black," Trump "truthed" (lol) on Saturday, offering "very much needed 'advice.'" Ye has "always been good to me," Trump added.
He also insisted yet again in his post that he didn't know Fuentes, who accompanied Ye to dinner.
OK, Trumper.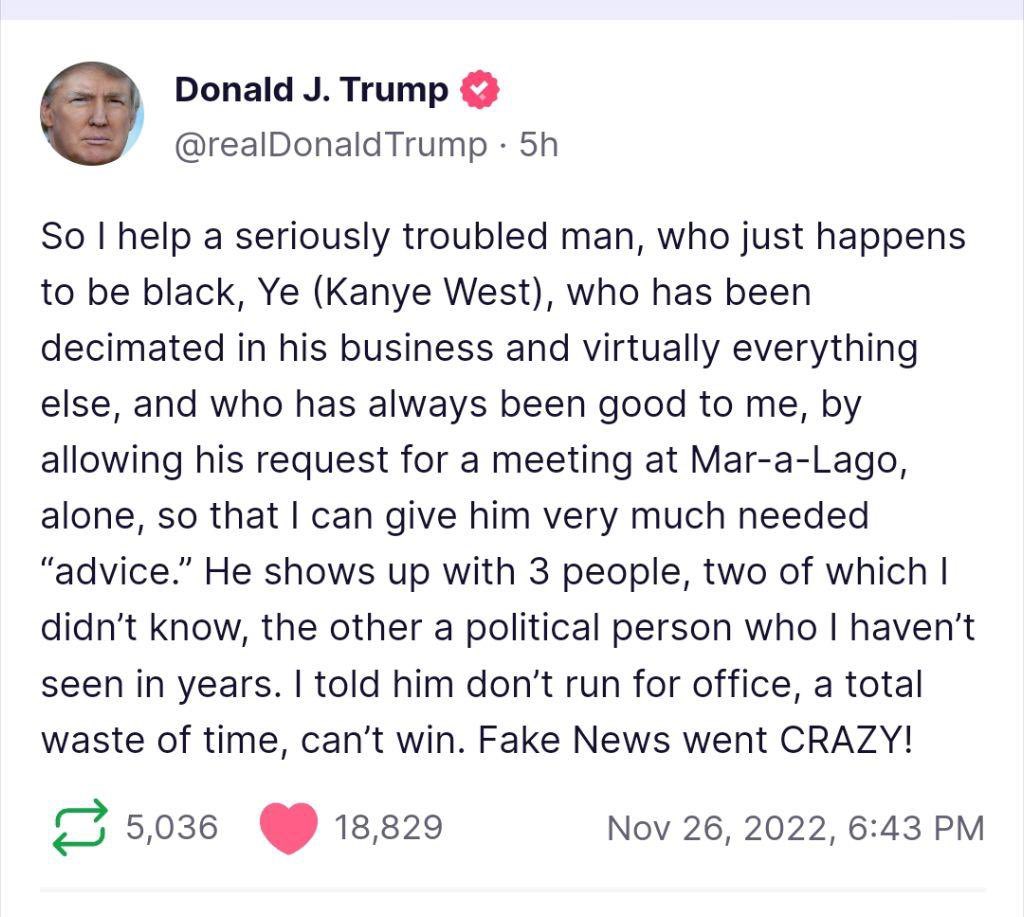 "Who just happens to be black." Is that racist dog whistle loud enough for you, or nah?
Trump also totally knows who NicKKK Fuentes is, and so do we: he's the "impressive" white supremacist Paid Bad Actor who hates Jews but is now apparently backing Ron DeSantis. Sad!
Nick Fuentes says the details in the Axios story of his meeting with Trump are accurate. Says he told Trump that he was a hero to him, but thinks he has lost his way and that the person who he most agrees with most now saying all right 'America First' things is Ron Desantis. pic.twitter.com/wUAplEOn0u

— Ron Filipkowski 🇺🇦 (@RonFilipkowski) November 26, 2022
Some members of the oxymoronically named Republican Jewish Coalition have spoken out against famously anti-Semitic Trump hanging out with other Jew-haters, but it's a whole lot of empty bullshittery.
None of my peeps should be hanging with the Red Hats, aka the Brown Shirts of the 21st Century.
The spineless Matt Brooks, chief executive of the Republican Jewish Coalition and a disappointment to his mother, issued a statement without even naming Trump, which is some of the weakest defense of the strongest people I've ever seen in my life:
"We strongly condemn the virulent antisemitism of Kanye West and Nick Fuentes, and call on all political leaders to reject their messages of hate and refuse to meet with them," Brooks said.
Ooooh, they're SO SCARED of you now, Matt! Way to be a Kapo, Kapo.
This is going to get a lot worse before it gets any better thanks to this Nazi bromance breakup. And by worse, I mean Elon Musk isn't going to stop anyone from posting hateful things about Jewish people on Twitter anytime soon, and their fanboys are already choosing sides. It's a SHANDAH.https://twitter.com/taradublinrocks/status/1596537098424979457?s=20&t=J8Xbp1gJkvnclklA4w8yWQ
Tara Dublin is a woefully underappreciated and unrepresented writer currently shopping a super cool novel that has nothing to do with politics while also fighting fascism on the daily.
Follow her on Twitter @taradublinrocks.
Editor's note: This is an opinion column that solely reflects the opinions of the author.
Tara Dublin
Tara is a reported opinion columnist at Occupy Democrats. She's a woefully underappreciated and unrepresented writer currently shopping for a super cool novel that has nothing to do with politics while also fighting fascism on a daily. Follow her on Twitter @taradublinrocks
Tara Dublin
Tara is a reported opinion columnist at Occupy Democrats. She's a woefully underappreciated and unrepresented writer currently shopping for a super cool novel that has nothing to do with politics while also fighting fascism on a daily. Follow her on Twitter @taradublinrocks