BECAUSE FLORIDA: Another hate group protests a drag show by…blaming the Jews?
Another day, another carefully-taught antisemitic white supremacist protesting a drag show.
I've known so many drag queens and kings throughout my life, and the only thing anyone needs to fear from any of them is being read to utter filth for being a terrible person. And yet, these most beautiful humans are constantly being barraged with the ugliest kind of hate.
The Anti-Defamation League (ADL) tweeted on Tuesday that there's yet another hate group in Florida (aside from the state GOP) blaming Jews for something we didn't do while also being homophobic.
"Over the weekend, NatSoc Florida protested a drag event in Lakeland, projecting 'Jews run the pedo agenda' and 'make pedophilia punishable by death' onto the walls of the venue," the ADL's tweet reads.
The tweet links to the ADL's handy dandy new primer on NatSoc Florida (NSF) — which formed THIS YEAR — so you can see how jaw-droppingly evil they are while also concealing their identities.
SO BRAVE!
Weird how they wouldn't put on a mask to prevent the spread of COVID-19 but they're just fine when one keeps them anonymous because they're completely spineless.
Here's a fun fact I learned about NSF from the ADL:
"In a June 2022 Telegram post, [NSF co-founder and probable chronic masturbator Josh Nunes] wrote that people connected to ADL and antifa will be hanged and added that seeing 'ADL [employees] hanging at the end of a rope' would make him and his associates 'very happy.'"
(BRB, I have to go scream into a pillow. It's a perk of being able to work from home.)
The response to groups like NSF is to shine a bright light on them and expose them for the subhuman vermin they are.
The only way we fight hate is by being louder with the truth.
I'm also encouraged by our Second Gentleman, Doug Emhoff, who is a true mensch.
"Dougie," as the Vice President calls her husband, is convening a White House roundtable on antisemitism, and I would really like to get in on that because I can't think of a day on Twitter where I haven't gotten something like this: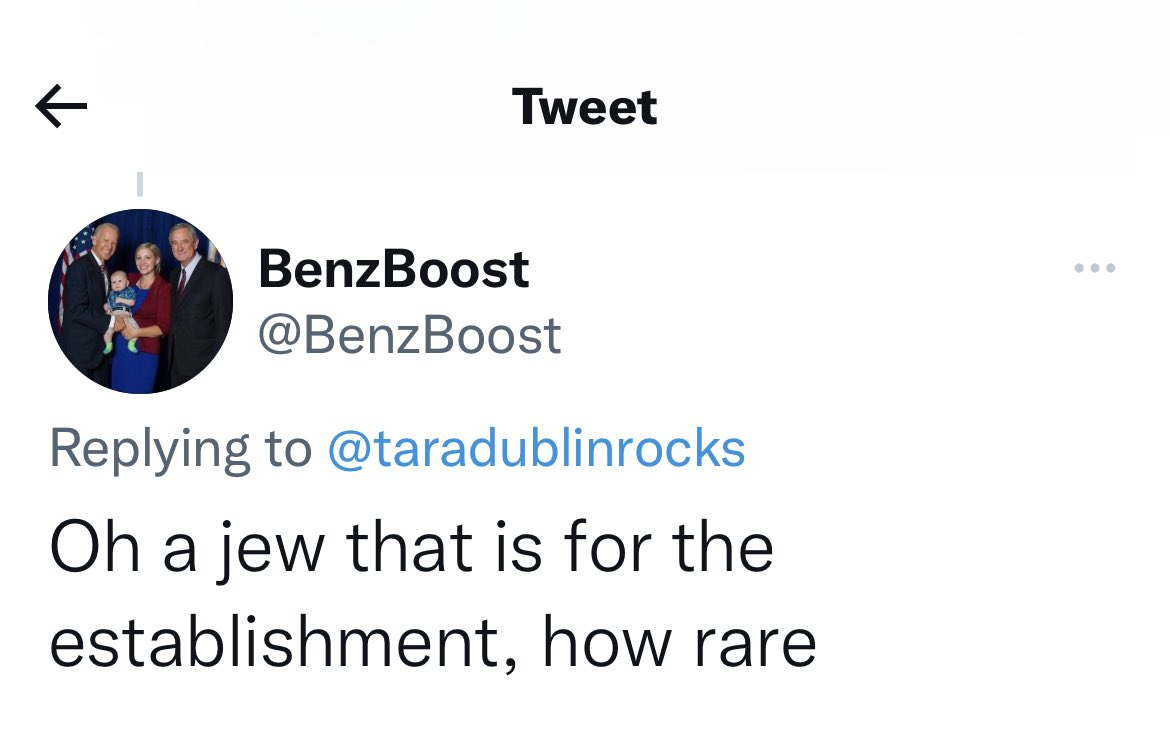 As any cast member of RuPaul's Drag Race might say, "OH NO YOU BETTER DON'T!"
But they do. Every day. And I'm exhausted from writing about all of this carefully taught hate along with the rest of the carefully taught hate.
Imagine depriving 40,000 residents in Moore County, NC of power because people were so afraid of drag queens they shot up THREE power stations, cutting power to houses and hospitals.

That's terrorism.

— BrooklynDad_Defiant!☮️ (@mmpadellan) December 4, 2022
Maybe someday the Florida Nazis will disappear along with the rest of the Nazis who are seemingly sprouting up like an invasive plant species causing more of a blight across the nation. But sadly, today isn't that day.
https://twitter.com/lesleyabravanel/status/1600192631903965186?s=20&t=VlHhJqb8ogMpfLqU_f8J9Q
Tara Dublin is a woefully underappreciated and unrepresented writer currently shopping a super cool novel that has nothing to do with politics while also fighting fascism on the daily.
Follow her on Twitter @taradublinrocks.
Editor's note: This is an opinion column that solely reflects the opinions of the author.
Tara Dublin
Tara is a reported opinion columnist at Occupy Democrats. She's a woefully underappreciated and unrepresented writer currently shopping for a super cool novel that has nothing to do with politics while also fighting fascism on a daily. Follow her on Twitter @taradublinrocks
Tara Dublin
Tara is a reported opinion columnist at Occupy Democrats. She's a woefully underappreciated and unrepresented writer currently shopping for a super cool novel that has nothing to do with politics while also fighting fascism on a daily. Follow her on Twitter @taradublinrocks