LOW BAR: Wait 'til you hear who the Republicans picked to deliver SOTU rebuttal
We were never going to get a respectful Republican rebuttal to President Joe Biden's upcoming State of the Union speech, but this year's response is setting an unexpectedly low bar, even for the GOP.
Newly inaugurated Arkansas Governor Mike Sarah Huckabee Sanders was somehow chosen to deliver the Republican Party's official response to the President's address to Congress.
If you're anything like me, you're probably asking why?
And also, SERIOUSLY WHY?
Because Senate Minority Leader Mitch McConnell and "Weaker Speaker" of the House Kevin McCarthy think Suckabee is "a representative for a new generation of Republicans," according to their joint announcement.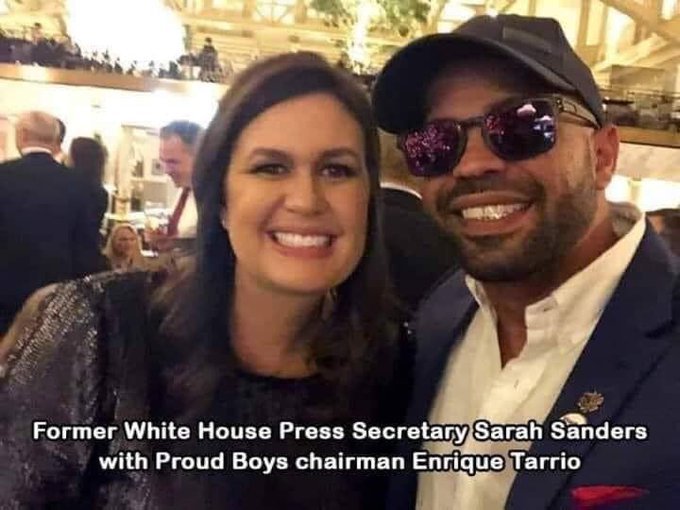 "A new generation of Republicans" who hang out with Proud Boys and is also committed to the full erasure of all non-white Americans and their histories, just like her colleague from the Florida chapter of the MAGA Legion of Doom, Gov. "Relocation" Ron DeSantis.
After she secured the Arkansas GOP nomination for governor, Trump's former press secretary told an audience, "We will make sure that when a kid is in the womb, they're as safe as they are in a classroom."
Guess how well that went over?
Of course, she won anyway THANKS, DAD!
But whine about Hunter Biden and nepotism more, GOP Nepo Babies.
Within 48 hours of being sworn in as governor, Suckabee signed a whole bunch of New MAGAWorld Executive Orders, with one targeting Critical Race Theory "to prohibit indoctrination" in schools and another banning the use of the term "Latinx" in official state documents.
It's going to be a doozy of a response based on Suckabee's statement, in which she expressed gratitude for the opportunity to give her party's response with one side of her dad's mouth to "contrast the GOP's optimistic vision for the future against the failures of President Biden and the Democrats" with the other side of it.
"We are ready to begin a new chapter in the story of America – to be written by a new generation of leaders ready to defend our freedom against the radical left and expand access to quality education, jobs, and opportunity for all," Suckabee said.
Tell it to the 2022 midterms, Miss Smokey Lies.
Suckabee's rebuttal is just going to sound like one long "Duhhhhh" to me.
Michelle Wolf was 100% right about her and this is a Capitol Hill issue I will die on.
Tara Dublin
Tara is a reported opinion columnist at Occupy Democrats. She's a woefully underappreciated and unrepresented writer currently shopping for a super cool novel that has nothing to do with politics while also fighting fascism on a daily. Follow her on Twitter @taradublinrocks
Tara Dublin
Tara is a reported opinion columnist at Occupy Democrats. She's a woefully underappreciated and unrepresented writer currently shopping for a super cool novel that has nothing to do with politics while also fighting fascism on a daily. Follow her on Twitter @taradublinrocks