SHAMBOLIC: Marjorie Taylor Greene's uncivilized State of the Union snit show
President Joe Biden delivered a blistering State of the Union address Tuesday night to the dignified Congressional Democrats who are invested in keeping Americans alive and prospering.
Conversely, the Congressional Republicans in attendance apparently have been ingesting a steady diet of Jujubes and Mountain Dew Pitch Black, because they all acted like recently uncaged howler monkeys at a 2nd-grade assembly.
Somewhere along the line, these MAGAssholes forgot that the State of the Union is a SPEECH.
It's not a discussion.
You're not supposed to be shouting down the President of the United States when he's speaking, Trumpocrites.
As I predicted on my TikTok before it all happened, Rep. Marjorie Taylor Greene (Q- A Ross $5 Sidewalk Sale somewhere in the Georgia foothills) and the rest of the QAnon Qaucus acted out every chance they got, disrespectfully heckling President Biden.
I'm a political Pre-Cog over here.
President Joe Cool knew what he was walking into, though.
First and foremost a father–one who's married to a teacher, no less–President Biden waited out the tantrums and then declared Medicare and Social Security were "off the books."
Meanwhile, Marge was doing her barking seal routine as usual, but while wearing a fashion crime that looked like her mom's coat from a 1978 white trash garage sale deep in the foothills.
I bet the lining is nothing but old cigarette burns.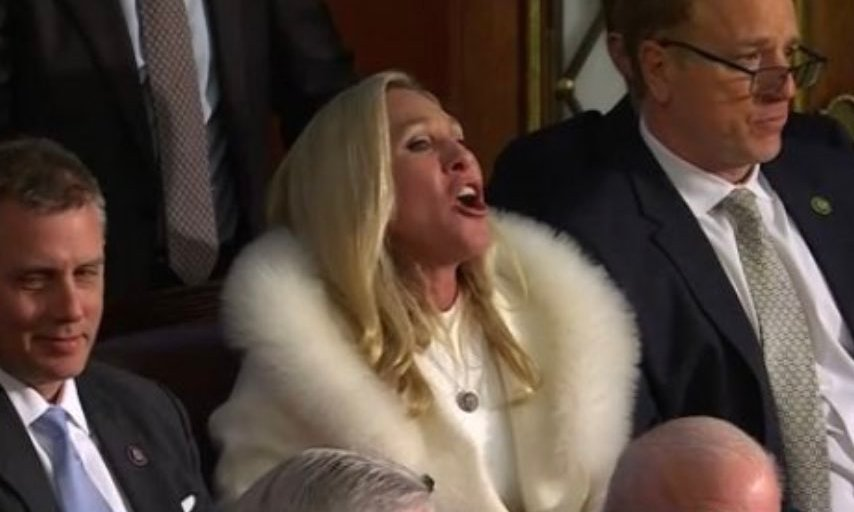 The disrespect was so off the charts, "Disrespectful" was trending on Twitter on Wednesday along with "Large Marge," "Cruella," "Lady Blah Blah," "Neanderthal" and my personal favorite (because I created it) "Qunt."
Marge was getting good and rammed on Wednesday, but not in the way she likes, because her insanity also rolled over into the Twitter hearings.
This is what a Thunderbird hangover looks like, btw.
Wait until Marjorie Taylor Greene figures out that political donations are free speech and also learns who was president in 2020 pic.twitter.com/O3fgScRg9c

— Aaron Rupar (@atrupar) February 8, 2023
https://twitter.com/taradublinrocks/status/1623385531685154816?s=20&t=1e_3YyEXp6yqarB5zPjwIA
Still confused about what Joe Biden did to the GOP on primetime TV last night? He publicly spanked Marjorie "The Stupidest Person in the Room" Taylor Greene, and simultaneously ruined Kevin McCarthy's entire political session. pic.twitter.com/8smU39dniM

— Megs (@the_meghaning) February 8, 2023
Marjorie Taylor Greene doesn't know the difference between the State of the Union Address and the Rocky Horror Picture Show. She just showed everyone how ridiculous MAGA is. And why did she keep yelling "liar" at George Santos? That wasn't nice.

— Jamie Raskin (@jamie_raskin) February 8, 2023
I believe Marjorie Taylor Greene plans to walk out of Biden's State of the Union early so she can go home and steal more Dalmatians. pic.twitter.com/1sjEUk2vBU

— Hospitalist Prime (@skrishnan37) February 8, 2023
Tara Dublin
Tara is a reported opinion columnist at Occupy Democrats. She's a woefully underappreciated and unrepresented writer currently shopping for a super cool novel that has nothing to do with politics while also fighting fascism on a daily. Follow her on Twitter @taradublinrocks
Tara Dublin
Tara is a reported opinion columnist at Occupy Democrats. She's a woefully underappreciated and unrepresented writer currently shopping for a super cool novel that has nothing to do with politics while also fighting fascism on a daily. Follow her on Twitter @taradublinrocks