ROAR: Forbes International Women's Day summit assembles legendary panel
Aside from triggering the smallest and most mediocre men on the planet (oy, the tweets), International Women's Day shines a light on the achievements of women throughout history up to modern times even as we're currently living in the prequel to "The Handmaid's Tale."
The Republican Party is working overtime to remove our bodily autonomy and all other basic human rights from all women–including their own, it should be noted–but particularly any minority women, women of color, and those in the LGBTQIA+ community.
That's why this year's celebrations of International Women's Month/Day are more essential than at any other time in our recent history.
Our own Vice President is a Black woman of Indian-American descent, and gets zero respect from far too much of our population.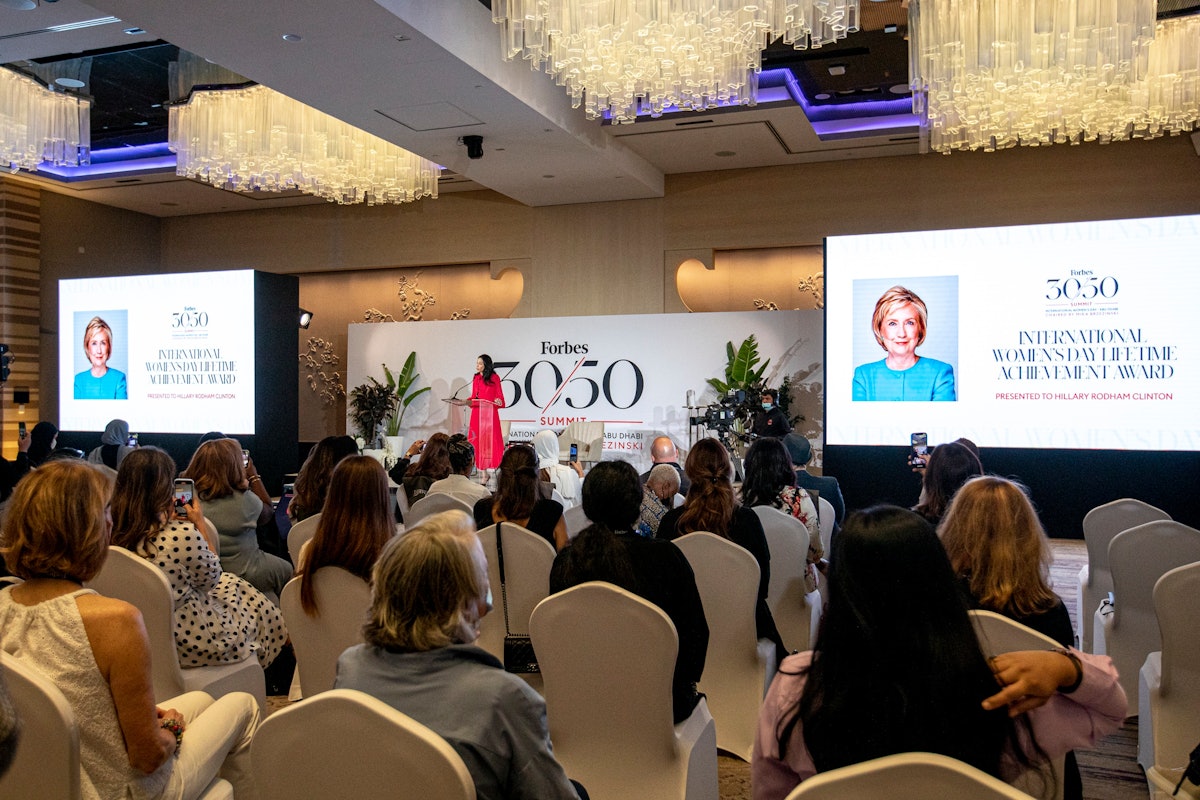 Putting women in positions of power is vitally important more than ever, which was acknowledged by a powerhouse panel put together by Forbes Magazine at their "30/50" Summit in Abu Dhabi.
The magazine had already established the "30 Under 30" list, which had become a hugely important honor for young female entrepreneurs and leaders.
This year, they've created "50 over 50," a new list to showcase how "experience and wisdom and leadership mean that success no longer has an expiration date."
PREACH, SISTERS!
Forbes brought together some major powerhouses for their inaugural gathering of the old(er) guard to meet with the future caretakers of women's rights, making for an epic panel discussion:
Former Secretary of State Hillary Clinton. First Lady of Ukraine Olena Zelenska. Tennis legend and LGBTQ activist Billie Jean King. Feminist leader and creator of Ms. Magazine, Gloria Steinem.
📷: Some of the world's most groundbreaking and innovative women have gathered in Abu Dhabi at the #Forbes3050 Summit, presented by @Forbes and @knowyourvalue, for a week of panels, mentorship and collaboration. https://t.co/sOlERLHlRH pic.twitter.com/Ize1Eq2gQV

— Forbes (@Forbes) March 8, 2023
YOWZA, y'all.
Moderated by "Morning Joe" co-host Mika Brzezinski, the panel focused on empowerment in the face of the GOP's attempt to set us all back to the Dark Ages.
.@HillaryClinton offers advice on advocating for yourself.

1. Be prepared
2. Practice communicating
3. Look for allies

Live on @Morning_Joe from the @Forbes 30/50 Summit. #Forbes3050 pic.twitter.com/4NGanrvGxf

— Know Your Value (@KnowYourValue) March 8, 2023
Game, set, match: Billie Jean.
Equal pay for equal work is essential.

Follow the money, because with it comes power and influence. #InternationalWomansDay #Forbes3050 #IWD2023 https://t.co/msCCaBEoVV

— Billie Jean King (@BillieJeanKing) March 8, 2023
Just imagine being in this room. The CHILLS!
https://twitter.com/zelenskaua/status/1633566539268980737?s=46&t=_DntGfUKBAUEtDMXsaSyYA
You can watch the entire epic conversation for yourself, below.
Follow her on Twitter @taradublinrocks.
Editor's note: This is an opinion column that solely reflects the opinions of the author.
Tara Dublin
Tara is a reported opinion columnist at Occupy Democrats. She's a woefully underappreciated and unrepresented writer currently shopping for a super cool novel that has nothing to do with politics while also fighting fascism on a daily. Follow her on Twitter @taradublinrocks
Tara Dublin
Tara is a reported opinion columnist at Occupy Democrats. She's a woefully underappreciated and unrepresented writer currently shopping for a super cool novel that has nothing to do with politics while also fighting fascism on a daily. Follow her on Twitter @taradublinrocks