BULLSEYE: DOJ signals its intentions to indict former guy
The Department of Justice will ask a federal grand jury to indict Donald Trump for violating the Espionage Act, and for obstruction of justice, an unconfirmed report said Wednesday.
The news comes soon after it was learned Trump's lawyers had met with DOJ Special Counsel Jack Smith regarding classified documents found at his Mar-a-Lago compound.
The grand jury's decision to indict could come as soon as Thursday, according to The Independent, which would be a glorious addition to the rest of the legal baggage weighing down Donny 34 Indictments.
At the same time, The Independent also claimed that Trump's former White House Chief of Staff, Mark Meadows, had made a deal to plead guilty to lesser charges in exchange for an immunity deal with the DOJ. That, too is unconfirmed.
Meadows' attorney subsequently denied that that was the case.
So it is worth holding off on popping the champagne corks until we get the word directly from the Special Counsel's office.
Credible reporting indicates the Special Counsel has also subpoenaed multiple witnesses to appear before a Florida grand jury in a separate trial regarding the Trump docs case.
Cue Trump rage-posting on Truth Social, which actually sent out a breaking news alert regarding the imminent indictments that the Orange Menace immediately tried to immolate.
You know Trump is extra freaking out when things are randomly capitalized, are in all caps, and are also spelled wrong.
Story continues below image: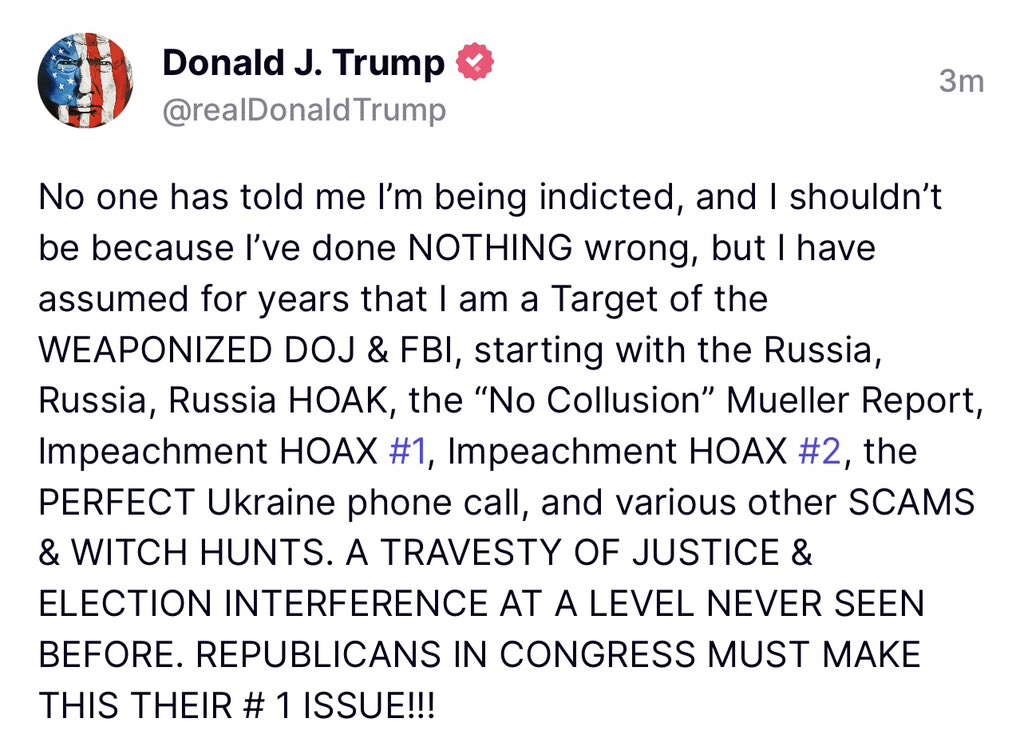 Coincidentally, "HOAK" is the sound Trump made when he found out about the impending charges. (Not confirmed either, but you'd think, right?)
Because Smith's investigation of the documents was mostly centered around Mar-A-Lago, credible reporting suggests Trump would most likely be charged in Florida instead of Washington, DC.
If the grand jury wants to indict, the corroborated reporting Trump would be prosecuted for violating U.S. Criminal Code Section 793, which prohibits "gathering, transmitting or losing" any "information respecting the national defense."
Aside from dooming his 2024 presidential campaign (and really, there should be some new rules about indicted felons not being allowed to run for public office), being found guilty of violating the Espionage Act comes with some very serious consequences.
And Twitter is oh so very fine with that and more if it means Trump might finally face any real punishment.
ENJOY:
🚨🚨IT'S HAPPENING: The DOJ is preparing to ask a Washington, DC grand jury to indict former president Donald Trump for violating the Espionage Act and for obstruction of justice as soon as Thursday

— Republicans against Trump (@RpsAgainstTrump) June 7, 2023
1. Mark Meadows to plead guilty to lesser federal crimes in exchange for testimony under limited immunity.

2. Federal grand jury to vote on a Trump indictment on charges of Obstruction of Justice and Espionage Act violations.

Buckle up.

— Jack E. Smith ⚖️ (@7Veritas4) June 7, 2023
Mark Meadows has agreed to plead guilty to several federal crimes as part of a plan to indict former President Donald Trump. Mark Meadows will receive a limited grant of immunity in exchange for his testimony. The DOJ is reportedly indicting Trump for violating the Espionage Act. pic.twitter.com/e3vIXy4OzF

— Tony – Resistance (@TonyHussein4) June 7, 2023
I told you Donald Trump would be charged for violating the Espionage Act. Fucking traitor.

— Mayo 🌻 (@MayoIsSpicyy) June 7, 2023
More from Occupy Democrats: EMERGENCY! Human Rights Campaign issues URGENT warning on LGBTQ+ rights
*THIS IS AN OPINION COLUMN THAT SOLELY REPRESENTS THE OPINIONS OF TARA DUBLIN. HOORAY FOR THE FREE PRESS!
Read more hot takes on Twitter @taradublinrocks & subscribe to her Substack.
Tara Dublin
Tara is a reported opinion columnist at Occupy Democrats. She's a woefully underappreciated and unrepresented writer currently shopping for a super cool novel that has nothing to do with politics while also fighting fascism on a daily. Follow her on Twitter @taradublinrocks
Tara Dublin
Tara is a reported opinion columnist at Occupy Democrats. She's a woefully underappreciated and unrepresented writer currently shopping for a super cool novel that has nothing to do with politics while also fighting fascism on a daily. Follow her on Twitter @taradublinrocks